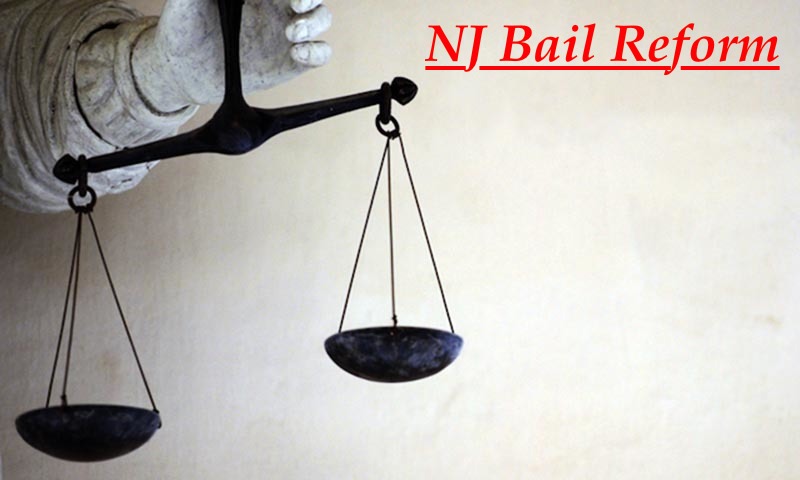 NJ Attorney General and Judiciary…releasing more defendants on a "pinky promise" than you may think.
Recently, the Attorney General and NJ Judiciary have had to defend the failing "Criminal Justice Reform Act" due to the seemingly endless unaccountable releases of violent and repeat offenders.
Have a million dollars worth of heroin?  Free to Go…
Carjacking and Armed Robbery?  Home for dinner…
Sexually Assault 3 students?  Free to go before the end of school bell rings.
Among the static circulating about bail reform, a recent article on NJ.com reported that the Hudson County Jail population has dropped by 20% after bail reform.  Hudson County Freeholder Bill O'Dea was quoted as saying that despite the drop in population, bail reform is still expected to cost the county more than 1 million.  This is ONE county…of 21 counties.
To really understand the impact of bail reform on the jail population, wouldn't it make more sense to compare all the jails and then analyze the why?  We think so too…so we did.
Number of Defendants in Pretrial
According the Administrative Office of the Court's (AOC) own statistics, the number of defendants in jail Pretrial as of Jan 1, 2017 (the start of bail reform) was 7,323.  The number of defendants in Pretrial as of Feb 17, 2017 was 6,557.  That's a drop of 766 defendants – 10.5%.  The AOC will claim the reduction in population is a direct result of pretrial release.  Well, they are right.  What they are not telling you is that there are 21 counties to account for and that 485 of those 766 (63.4%) are from three counties; Camden, Essex, and Hudson.
With so many unaccountable releases, where are the savings exactly?  Despite the marginal reduction, jails are working harder with courts having to be open on Saturday which require more judges, staff, attorneys, and sheriffs.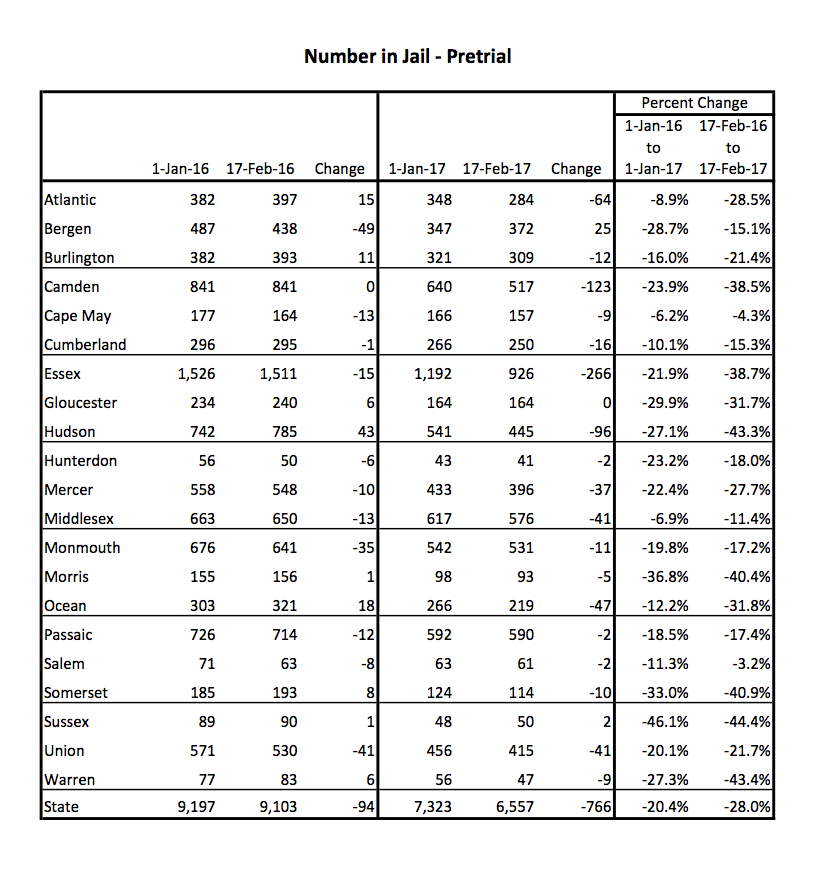 The missing link few are talking about…
By now, most realize that the vast majority of defendants will be released on nothing more than a "pinky promise."  In fact, there are 3,324 defendants in pretrial monitoring through Feb 17, 2017.  586 motions for detention have been granted for some of the more serious offenders.  On the surface that may not seem so bad, right?  Well, hang on just a second…are they really releasing far more defendants than we thought?  Yes…
From Jan 1, 2017 – Feb 17, 2017, there were 7,910 arrests on CDR2 warrants in the state.  To understand that, you have to know what a CDR2 warrant is vs a CDR1 warrant.
CDR1 – Summons (no jail…free to go)
CDR2 – Warrant (go to jail for pretrial review)
During the same period last year there were 13,493 CDR2 warrants vs the 7,910 in 2017.  That's a 41.9% DROP.
So what does that mean?  The AG Directives are clear…issue as many summons as possible.  This means that not only are defendants being released from jail for serious offenses unaccountable, many do not even make it to the jail.   We have documented several cases where defendants were released on a summons where that would not have happened under the old system…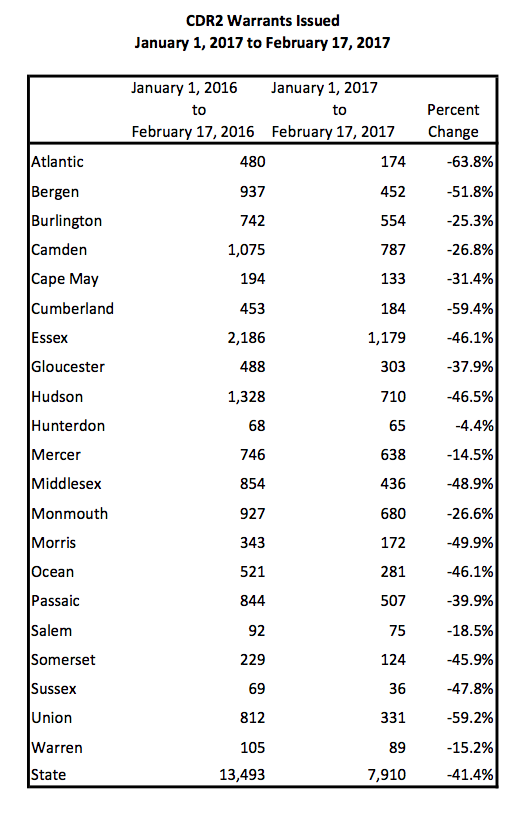 There are many moving parts to NJ Bail Reform.  The failures are mounting despite the legislators, judiciary, and AG's Office claiming "all is well."  Offenders are being released completely unaccountable with no supervision.
When an ex-con with 5 felony convictions is arrested with 5lb's of marijuana, crack cocaine, and heroin and is then released on a summons, it should set off an alarm.  This is no isolated incident.  This is business as usual with bail reform.
AOC flips the narrative…
The Catch & Release system of NJ Bail Reform is in full swing.  Several high profile cases have caught the attention of main stream media.  The case of Dawud Ward is one of them.  Ward has been charged with 9 burglaries this year alone and arrested three times.  Ward was released on his own recognizance after the first two arrests under new bail reform guidelines.  After his third arrest, the presiding judge granted the prosecutors motion to detain Ward.
Peter McAleer, spokesperson for the Administrative Office of the Courts, spoke to NJ.com and was quoted as saying that detaining Ward "would not have been possible under the old cash bail system which required all defendants be given the opportunity to post bail."
Really Peter?  Let us also explain to you what could have been possible under the old cash bail system.  Ward has a lengthy history of burglaries dating back to last fall and in Virginia prior to that.  In order to secure a bond, Ward would have had to enlist the help of his family and friends to act as the indemnitor (co-signer) on a secured bond.  It's possible Peter that his family is keenly aware of his apparent issues and would have opted not to sign for Ward.  After all, close family and friends certainly have more intimate knowledge of you than a court or computer algorithm ever will.  It is also possible that even if he could have secured his bond, he would have encountered a true layer of accountability…with the indemnitors and the commercial bondsman.
In the end Peter, it's not only possible, it's a reality that the "old" system of accountable commercial bail could have saved several homeowners the agony of having their homes burglarized by Ward.
As you continue to take your victory lap Peter, just know that New Jersey is slowly realizing they have been duped…and they are not happy.
__________
You've been LIED to New Jersey…NJ Bail Reform is RECKLESS, DANGEROUS, and YOU are PAYING for it.