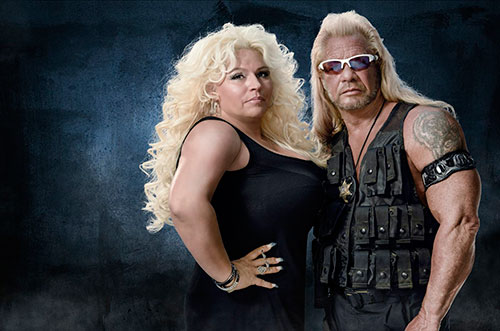 BREAKING NEWS from New Jersey – Duane "Dog" Chapman and wife Beth head to New Jersey for Town Hall Meeting on NJ Bail Reform.
Trenton, NJ – Since the implementation of the voter approved bail reform laws in January it has become clear that the voters were misled with a bill of goods. The bail reform law has caused crime rates to increase and the release of thousands of criminal defendants with no accountability. Duane "Dog" and Beth Chapman, two of the most famous bounty hunters and bail agents in the world are going to New Jersey to engage the community in fixing the badly written reforms.
 "The basic problem here is that you are allowing criminals, on a mass scale, to get out of jail free with no accountability to return to court to face their charges," said Duane "Dog" Chapman. "In my career I have caught thousands of defendants who skipped bail or reoffended while they were out on bail. I have seen this play out so many times it makes my heart sick. Policy makers start to think that the poor offender is the victim and advance these policies which help the "poor, innocent" criminal and in the end it is the truly innocent and law abiding citizen who is hurt."
Another unintended consequence of the bail reform law has been a serious breach of constitutional rights to the accused. The eighth amendment to the Constitution of the United States gives an accused the right to bail so they can mount a defense against their charges without being in custody of the state. However, since the bail reform laws have taken effect in New Jersey, every defendant is now jailed until their pretrial hearing and unable to secure their freedom, often subjected to basically probation until conviction. 
Pastor Dorion Morgan, who is hosting the Chapmans at his church on Sunday, the Restoration Station Christian Fellowship Church, is a criminal defense attorney who has seen this unconstitutional side of the bail reform.
"The system we had before needed some reform but we went too far with these laws and now we have created more problems than we have ever had before," said Morgan. "People are being denied their constitutional right to release and those who are released have no supervision or accountability because the bail bondsmen are no longer a part of the system. There are no winners with the new system, everyone suffers from the law abiding citizen, through high crime rates, to the accused with a breach of their constitutional rights."
The town hall will start with a motivational speech delivered by Duane "Dog" and then a community discussion centered on Assembly Bill 3507 and Senate Bill 2079. The bills change nothing about the original concept of the law. It ensures preventative detention for the most dangerous and pretrial release without monetary constraints for low level offenders. However, the bills restore the discretionary power back to the judges for those offenders charged with serious indictable crimes that do not qualify for preventative detention and need that layer of accountability that only commercial bail can provide.
"The purpose of bail is to ensure the defendant returns to court and that they have skin in the game. Having a bondsman with a financial interest in the defendant's appearance provides the security that they will show up and also that they will not re-offend while out on bail," stated Beth Chapman, President of the Professional Bail Agents of the United States (PBUS). "The bail industry has over 200 years of success in this country and partnership with the criminal justice system."
Chapman continued, "We are urging New Jersey legislators to act now on these Bills, before the summer legislative break, so that New Jersey citizens can breathe a little easier and avoid a summer where citizens continue to be victimized, law enforcement demoralized, and criminals have no deterrent, all while the taxpayers pick up the tab. Legislators have a duty to protect their constituents and we hope they will do the right thing."
When and Where:
Community Town Hall Meeting (open to public):
The town hall will take place this Sunday June 25, 2017 at Restoration Station Christian Fellowship Church at 3pm. The church is located at 4313 Route 130 South, Park Plaza-Suite B11, Edgewater Park, NJ 08010.
New Jersey State House in Trenton (join "Dog" and Beth in Trenton):
"Dog" and Beth will then head to the State House in Trenton on Monday and Tuesday to speak with legislators about supporting the two pending bail reform bills.
---