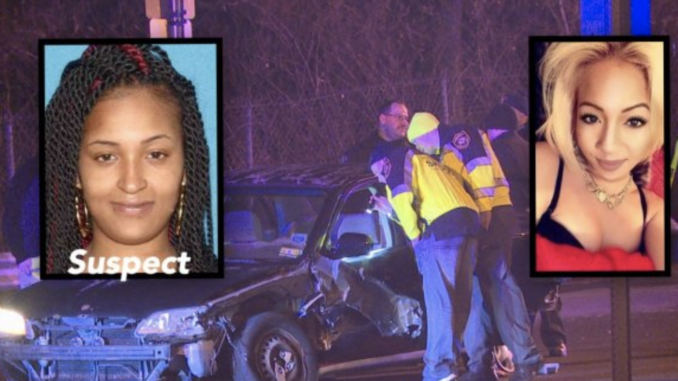 Jersey City, NJ – A Jersey City woman is home in time for happy hour thanks to NJ Bail Reform after fleeing the scene of a crash that killed her friend during a night of partying.
Khadijah Hamilton, 27, of Jersey City, is charged with Leaving the Scene of an Accident Resulting in Death, Death by Auto, and Driving Unlicensed and Causing Death.
According to a RLS Media report, on Jan. 27th, sometime around 3 a.m., police were called to Newark Avenue and 7th Street for a report of a crash.
---
Demand more accountability for criminal defendants…
---
Police found Khalla Nguyen, 24, of Jersey City, in the backseat of the crashed 2000 Honda Accord. Medics pronounced her dead at the scene.
An investigation revealed that Hamilton, along with Nguyen and two other occupants were riding around Jersey City for at least three hours. Police found a bloody bottle of Hennessy cognac and more than 40 smoked marijuana "blunts" inside the vehicle.
Hamilton was later released and FREE TO GO after the Arnold Foundation's "Pretrial Risk Assessment" tool determined he was not a danger to the community or a flight risk and therefore should not be subject to any accountable release – just a "promise" to appear.
---
More "validated pretrial risk assessment" Failures.
New Jersey Bail Reform, Risk Assessments, and Pretrial Release Services…
ZERO Accountability
ZERO Deterrent
ZERO Supervision
ZERO concern for victims
ZERO Bail…just a "pinky promise" to return
Bail Reform – Dangerous, Reckless, and a Taxpayer Burden
---
You're being lied to…
Unaccountable pretrial release is reckless and dangerous – with zero regard for victims or criminal accountability.
Demand more from our legislators…
---
---