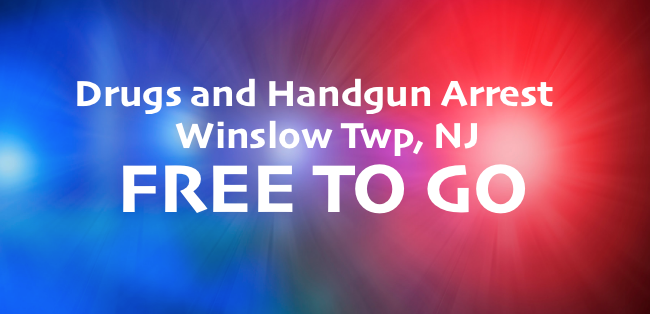 Dean Williams, 32, of Upper Darby, Pa., and Brianna Henry, 21, of Sicklerville, were arrested after officers found them in the back seat of an idling car with a loaded stolen handgun, 3.5 pounds of marijuana, and $6,625 of suspected drug money.
Williams and Henry were processed and quickly released FREE TO GO under NJ Bail Reform after the Arnold Foundation's "Pretrial Risk Assessment" tool determined that they were not a danger to the community or a flight risk and therefore should not be subject to any accountable release – just a "promise" to appear.
---
More "validated pretrial risk assessment" Failures.
New Jersey Bail Reform, Risk Assessments, and Pretrial Release Services…
ZERO Accountability
ZERO Deterrent
ZERO Supervision
ZERO concern for victims
ZERO Bail…just a 

"pinky promise"

 to return
Bail Reform – Dangerous, Reckless, and a Taxpayer Burden
---

---
(reported by NJ.com – Aug 7 2017)
Police recovered more than three pounds of marijuana, $6,000 in cash and a stolen handgun in a vehicle near an elementary school early Sunday morning. 
Just before 3 a.m., an officer on patrol noticed an idling vehicle in the Manor Hall Section of Sicklerville, with two people slouching in the back seat, according to the Winslow Township Police Department. 
When the officer approached the vehicle, he saw a woman light a cigar, but could smell marijuana, police said. He asked the woman to put out the cigar, but she allegedly refused.
When he questioned the two about the smell of marijuana, the vehicle's two occupants denied having any, police said. The officer then allegedly saw a handgun resting in plain view in front of the driver's seat. 
He called for backup, and when additional officers arrived, they arrested the two people, identified as Dean Williams and Brianna Henry, police said. 
A search of the vehicle recovered 3.5 pounds of marijuana, $6,625 in cash and a loaded handgun reported stolen out of North Carolina, according to police. 
Williams, a 32-year-old from Upper Darby, Pa., and Henry, a 21-year-old from Sicklerville, both face charges related to possessing of over 50 grams of marijuana with the intent to sell, possessing drugs within 1,000 feet of Winslow Township Elementary School Number 3 and illegally possessing a firearm, according to police. 
---
You've been LIED to New Jersey…NJ Bail Reform is RECKLESS, DANGEROUS, and YOU are PAYING for it.
Defendants are presumed innocent until proven guilty in a court of law.
---
Morristown, NJ – Catholic priest from Poland arrested for criminal sexual contact of teenage girl FREE TO GO under NJ Bail Reform