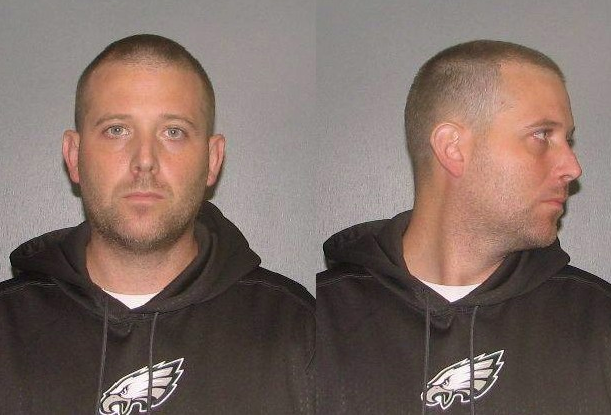 Michael C. Eger, 33, prior felon and resident of Brigantine, has been arrested again for a variety of drug related charges…after being arrested for similar charges in February and released under NJ Bail Reform guidelines.
Eger was arrested on Mar 17, 2017 by Brigantine police after police executed a "no knock" search warrant in the 3600 block of Bayshore avenue.  Assisted by SWAT, K9, and Galloway police, officers arrested Eger along with two others for drug related offenses.
ZERO Supervision
ZERO Accountability
ZERO Bail – just a "pinky promise" to return
Catch & Release
Brigantine Facebook press release – Mar 21, 2017

During the early morning hours of March 17, 2017, under the supervision of Sgt. Ralph Spina and Sgt. Steve Ward, members of the Brigantine Police Department executed a "no-knock" search warrant in the 3600 Block of Bayshore Avenue. They were assisted by members of the Atlantic County SWAT Team, Somers Point Police K9 Unit, and the Galloway Township Police Department K9 Unit. The search warrant was the culmination of a five month investigation and three persons were arrested for offenses related to dangerous drugs. Approximately 70 bags of heroin were recovered as well as scales, drug packaging material, drug paraphernalia, and U.S. Currency.

Michael C. Eger, 33, of Brigantine was arrested and charged by Det. Glasser with possession of heroin, possession of prescription drugs without valid prescription, distribution of heroin, distribution of heroin within 500 feet of public lands, and weapons offenses. Eger also had an active warrant out of the Atlantic County Sheriff's Office for failing to appear in superior court for drug related offenses.
US Bail Reform reported in February of Eger's arrest in Somers Point when he was charged with possession of 80 bags of heroin and distributing drugs in a school zone.  Eger was released on a "pinky promise" and then failed to appear in court on the charges.
Eger was remanded to the Atlantic County Jail in Mays Landing…for now.
Round and round we go…catch & release on the taxpayers dime with ZERO accountability. You've been LIED to New Jersey…NJ Bail Reform is RECKLESS, DANGEROUS, and YOU are PAYING for it.
[ninja_form id=6]
Defendants are presumed innocent until proven guilty in a court of law.
https://www.usbailreform.com/south-jersey-man-charged-agg-assault-weapons-charges-jan-released-burglary-nj-bail-reform/