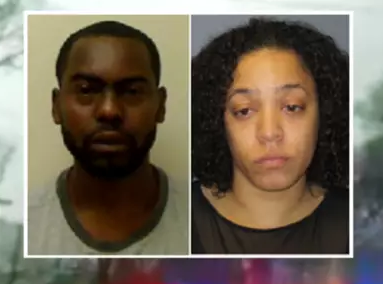 Wayne Hall, 37, and Jameika Hutchison, 34, were arrested Friday on various charges including aggravated assault on police and resisting arrest after a motor vehicle crash in Rochelle Park, NJ…now both FREE TO GO under NJ Bail Reform.
ZERO Accountability

ZERO Supervision

ZERO Bail…just a "pinky promise" to return
---
(Jerry DeMarco of Daily Voice reported Mar 31, 2017)
A transient involved in a crash and female associate who showed up at the scene Friday morning both assaulted Rochelle Park police while refusing to provide information about themselves — and were then released without bail by a judge.
Officers eventually had to pepper spray 37-year-old Wayne Hall, a transient primarily based in Hackensack who gave them only his name – and, it turned out, had both an active warrant for his arrest and a suspended driver's license – following the Central Avenue crash, Lt. Dean Pinto said.
Officer Chris Saldivia asked Hall for his license, registration and insurance information and, instead, got a card from him claiming he had "The Right to Travel, The Right to Mode of Conveyance, The Right to Locomotion, and the police cannot make void the exercise of Rights," Pinto said.
A short time later, Jameika Hutchison, 34, of Hackensack arrived and began recording with her cellphone, the lieutenant said.
Other officers arrived as Saldivia continued to press Hall for information, Pinto said.
Eventually, the officer determined his identity and found the warrant and license suspension report, he said.
Saldivia tried taking Hall into custody, but he "refused to be handcuffed, refused to comply to verbal commands and began to strike the officers," Pinto said.
Saldivia, Frank LaBoy and Brendan Stapleton were struggling with Hall when Hutchison "began to interfere and strike the officers and attempt to pull them off of [Hall], who was violently swinging his arms to break free and strike the officers.
"Eventually the officers were able to handcuff Hall, but not until after deploying pepper spray due to Hall's violent resistant behavior and non-compliance. "
Sgt. Edward Kukalski tried to hold back Hutchison, "but she attempted to strike and physically remove and pull the officers from Hall, at which point she was advised that she was going to be placed under arrest," Pinto said.
---
You've been LIED to New Jersey…NJ Bail Reform is RECKLESS, DANGEROUS, and YOU are PAYING for it.
Defendants are presumed innocent until proven guilty in a court of law
---