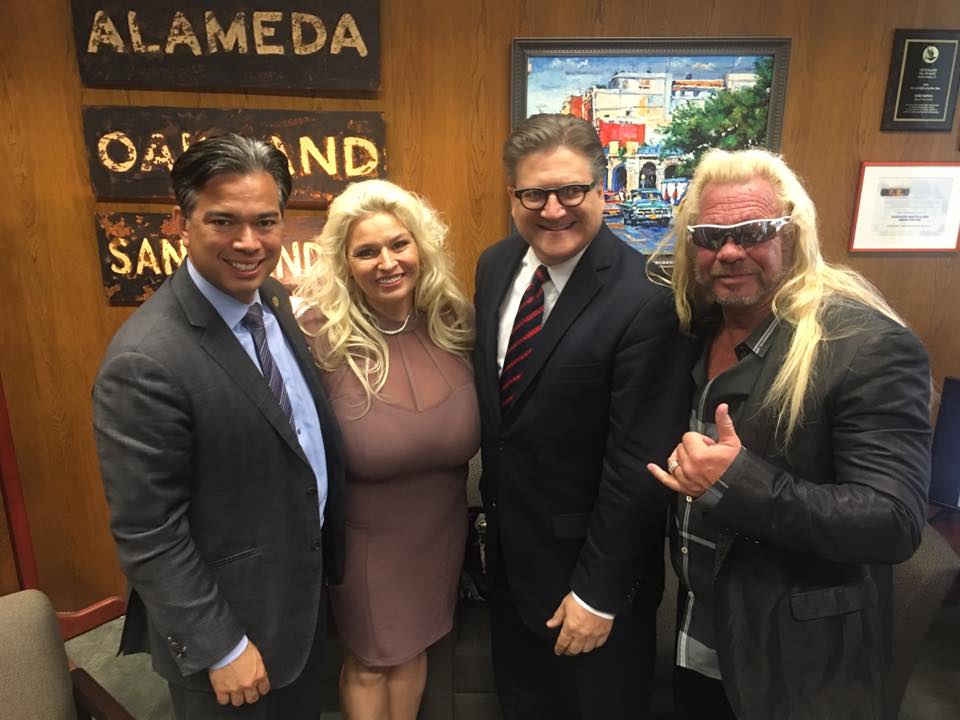 Duane "Dog" Chapman and Beth Chapman joined the opposition Tuesday opposing the controversial Assembly Bill 42 (Bail: Pretrial Release) – later calling the hearing a success saying lawmakers agreed to "go back to the drawing board."
Assembly Bill 42 moved out of the Public Safety Committee after a scheduled hearing on the Bill Tuesday.
Assembly Bill 42 Bail: Pretrial Release was introduced in California on December 5, 2016.  The companion Senate Bill is SB-10.
The Bill would virtually eliminate the fundamental constitutional right to bail in criminal cases and simultaneously let hardened criminals out of jail free because they say they are poor.  In so doing, the legislation will cost the State of California hundreds of millions of dollars, which will instead go toward new criminal welfare programs.
This move will also put out of business hundreds of multi-generational, mom and pop commercial bail companies, which are mostly minority and women owned businesses.  These companies deal with criminal defendants on a daily basis at no cost to the citizens so that justice can be done…and victims have their day in court.
---
Duane "Dog" Chapman talks California AB-42
---
(reported by the LA Times Apr 18 2017)
Celebrity bounty hunters Duane "Dog" and Beth Chapman on Tuesday were among dozens of bounty hunters and bail agents to voice opposition to a state bill that would drastically transform the way judges award criminal defendants bail in California.
The packed hearing before the Assembly Public Safety Committee signals the ramping up of what state lawmakers have predicted will likely be the largest criminal justice battle at the Capitol this legislative session.
Assembly Bill 42, introduced by Assemblyman Rob Bonta (D-Oakland), would limit offenders from having to post money as a condition of release from jail and would shift some power from judges to pretrial-services agencies to assess the risks they would pose if allowed out in the community.
It moved out of the public safety committee with a 4-2 vote. An identical bill in the other chamber, introduced by Sen. Bob Hertzberg (D-Van Nuys), is pending before the Senate Appropriations Committee.
---