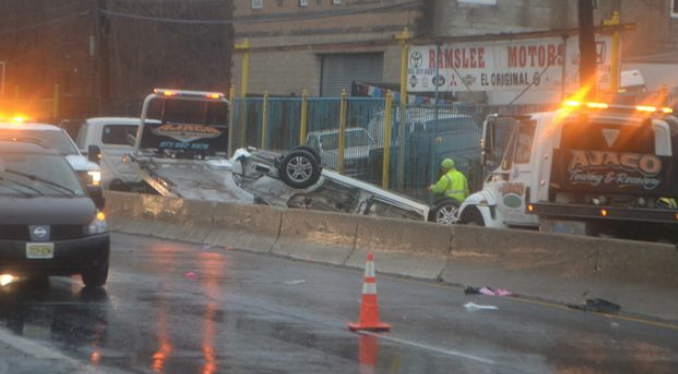 A drunk driver, driving on a suspended license, crashed his car during an early morning collision claiming the lives of two passengers in the other vehicle.
Jersey City, NJ – Alex Torres, 32, of Union City, was driving reckless and drunk with passengers when his 2006 Honda crashed into a red Toyota Corolla in the early morning hours of Feb 11.
Two passengers in the backseat of the Toyota were pronounced dead at the scene. Hudson County Assistant Prosecutor Lynne Seborowski stated that Torres blood alcohol level indicated that he was intoxicated.
Torres was charged with two counts of death by auto and three counts of assault by auto.
Torres made his first appearance and was quickly released and FREE TO GO under NJ Bail Reform after the Arnold Foundation's "Pretrial Risk Assessment" tool determined she was not a danger to the community or a flight risk and therefore should not be subject to any accountable release – just a "promise" to appear.
The release is yet another example of the thousands of unaccountable and FREE TO GO pretrial releases of those criminally charged under the NJ Bail Reform Act.
Demand more accountability for criminal defendants…
---
More "validated pretrial risk assessment" Failures.
New Jersey Bail Reform, Risk Assessments, and Pretrial Release Services…
ZERO Accountability
ZERO Deterrent
ZERO Supervision
ZERO concern for victims
ZERO Bail…just a "pinky promise" to return
Bail Reform – Dangerous, Reckless, and a Taxpayer Burden
---
RELATED:
(reported by NJ.com – Mar 22 2018)
A man facing two counts of death by auto was drunk and driving recklessly when he caused the Jersey City crash that claimed the lives of two Union City residents last month, authorities said.
Alex Torres, 32, of Union City, was driving with a suspended license on Feb. 11 at the time of the crash that killed Mario Guevara, 25, and Heather Acosta, 24, Hudson County Prosecutor Esther Suarez announced today.
Torres surrendered to police Tuesday afternoon and made his first court appearance on the charges today. During the hearing, Hudson County Assistant Prosecutor Lynne Seborowski said Torres' blood alcohol concentration showed he was intoxicated at the time of the crash.
Torres is also charged with three counts of assault by auto for three others who were injured in the two-car crash at 3:20 a.m. on Tonnelle Avenue between Manhattan Avenue and North Street.
He entered a not guilty plea during today's proceeding.
---
You're being lied to…
Unaccountable pretrial release is reckless and dangerous – with zero regard for victims or criminal accountability.
Demand more from our legislators…
---
---