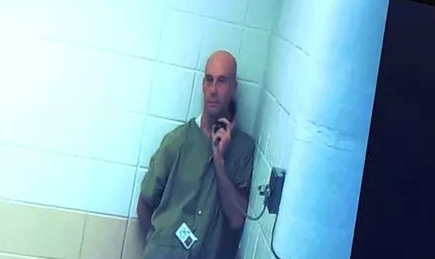 Man gets released from the Morris County Jail for violations of restraining orders…then robs a woman with her child 12 minutes later.
Michael K. Conway, 37, was charged with robbing a woman of cash and her car as she was leaving the Wells Fargo Bank ATM with her 10-year-old son – twelve minutes after his release from the Morris County Jail.
Conway is alleged to have approached the victim from behind and used his finger in his pocket against her back – telling her he had a gun. Conway was later arrested after video footage from the bank revealed Conway in the incident.
Conway had beed released from Morris County twelve minutes prior to the assault after he spent the night in jail after violating conditions of restraining orders that had been filed against him.
After spending a night in jail, Conway was released and FREE TO GO after the Arnold Foundation's "Pretrial Risk Assessment" tool determined he was not a danger to the community or a flight risk and therefore should not be subject to any accountable release – just a "promise" to appear.
Demand more accountability for criminal defendants…
---
More "validated pretrial risk assessment" Failures.
New Jersey Bail Reform, Risk Assessments, and Pretrial Release Services…
ZERO Accountability
ZERO Deterrent
ZERO Supervision
ZERO concern for victims
ZERO Bail…just a "pinky promise" to return
Bail Reform – Dangerous, Reckless, and a Taxpayer Burden
---
RELATED:
(reported by the Daily Record – Jan 5 2017)
Twelve minutes after Michael K. Conway was released from the Morris County jail Wednesday, police said he robbed a woman of her cash and car as she left the Wells Fargo Bank ATM with her 10-year-old son.
Conway, 37, of Morris Township, approached the mother from behind at the Ridgedale Avenue bank before 6 p.m., put his hand in his pocket, pressed it against her back and told her it was a gun, according to court records.
The mother turned over $40 to the robber who fled the area in her Nissan Sentra, which she'd left running in the drive-through lane of the bank, according to records filed Friday in Superior Court, Morristown.
Police recovered still images from the ATM that confirmed the robbery and provided authorities with the suspect's description.
Images captured by the jail's surveillance cameras show Conway as he was released and dressed in the same clothes worn by the robber, whose images were captured by the bank's cameras, records show. Officials at the jail, situated in Morris Township and near the Wells Fargo, said Conway was released at 5:28 p.m. Wednesday. 
---
You're being lied to…
Unaccountable pretrial release is reckless and dangerous – with zero regard for victims or criminal accountability.
Demand more from our legislators…
---
---