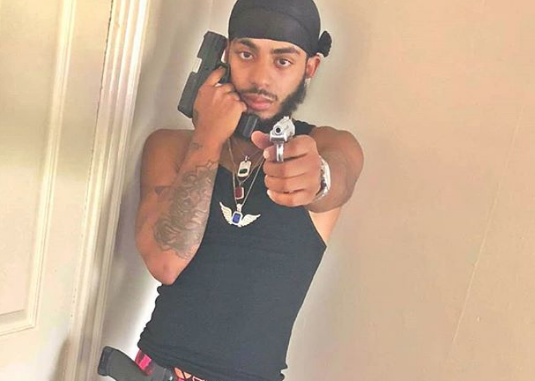 Penns Grove NJ man charged in murder of former Paulsboro High School wrestler after road rage dispute.
September 5 2018
---
Anthony Kille, 20, of Penns Grove, has been charged with killing Davontae Randall, 21, of Paulsboro days after a road rage incident.
Kille has a long history with the law having recently been arrested for conspiracy, and possession and distribution of heroin in July. Kille was serving home confinement as part of his release under NJ Bail Reform. Kille was released after the Arnold Foundation's "Pretrial Risk Assessment" tool determined he was not a danger to the community or a flight risk and therefore should not be subject to any accountable release – just a "promise" to appear.
The release is yet another example of the thousands of unaccountable and FREE TO GO pretrial releases of those criminally charged under the NJ Bail Reform Act.
RELATED: Convict couldn't let road rage go. And a former star wrestler allegedly paid with his life.
(NJ.com – posted Aug 28 2018)

Davontae Randall's last night alive started out happily as he worked the grill at his mother's house, where friends and relatives had gathered to celebrate the family dog's first birthday.

But the backyard party turned dark as afternoon began to recede into night, and a days-old road rage incident exploded at the celebration's front door.

Police have issued a murder warrant for the man that Randall's family says shot him dead in cold blood on his mother's doorstep. Cops haven't released the man's name, but the murder warrant identifies him as Anthony Kille, 20.

"We are pursuing a suspect and we have a strong belief that that individual committed the crime," said Tom Gilbert, the chief of staff of the Gloucester County Prosecutor's Office. He would offer no more detail.

A few days prior to the shooting, Kille and Randall, a former star wrestler at Paulsboro High School, engaged in a heated verbal dispute after a close call on the road, said Felisha Daniels, Randall's 19-year-old girlfriend.

Daniels said she was with Randall, 21, the day they nearly crashed into a car in which Kille — nicknamed 'Poodie' — was a passenger, at an intersection in nearby Swedesboro.

"He said to Davontae, 'Watch what we do to you' as they pulled off," Daniels said Monday.
---
More "validated pretrial risk assessment" Failures.
New Jersey Bail Reform, Risk Assessments, and Pretrial Release Services…
ZERO Accountability
ZERO Deterrent
ZERO Supervision
ZERO concern for victims
ZERO Bail…just a "pinky promise" to return
Bail Reform – Dangerous, Reckless, and a Taxpayer Burden
---
Demand more accountability for criminal defendants…
---
---
https://www.usbailreform.com/nyc-cocaine-dealer-arrested-nj-free-go-nj-bail-reform/