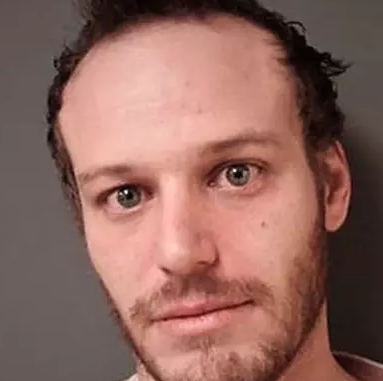 Leonia man arrested for 3rd time this year – having been released twice already and FREE TO GO under NJ Bail Reform for aggravated assault, possession of a weapon, aggravated assault on police officer, and related charges.
On April 10, 2017, Kyle Stambaugh, 27, was charged after he barricaded himself in an apartment after a brawl with police – which left an officer injured with a deep leg cut and another with a shoulder injury. Earlier in the day, police say Stambaugh pointed a gun at another man on the street.
Stambaugh was charged with unlawful possession of a weapon, possession of a weapon for unlawful purpose, resisting arrest and eluding, aggravated assault, and aggravated assault on a police officer.
Stambough was later released the next day and FREE TO GO under NJ Bail Reform after the Arnold Foundation's "Pretrial Risk Assessment" tool determined he was not a danger to the community or a flight risk and therefore should not be subject to any accountable release – just a "promise" to appear.
---
April 10 Arrest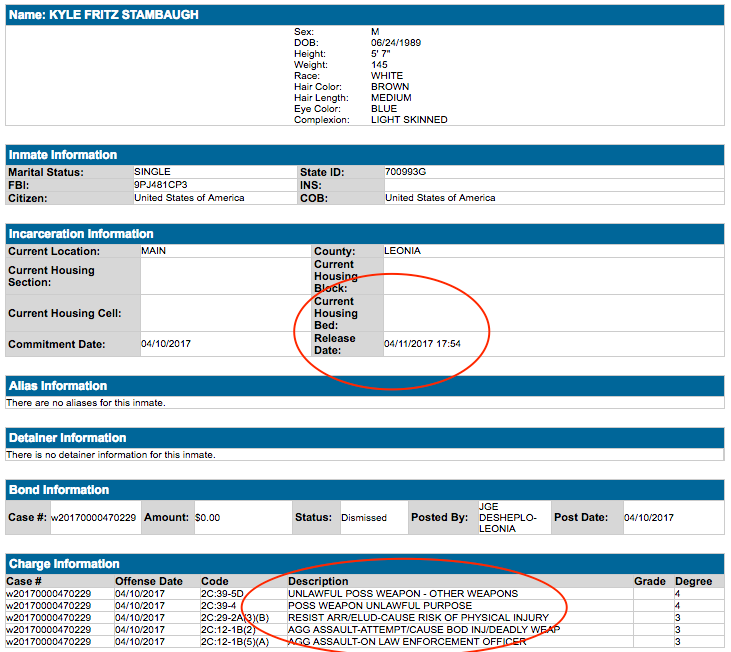 ---
On November 22, Stambaough was again arrested and charged with aggravated assault – causing bodily injury.
Once again, the magic "black box" Arnold Foundation algorithm said Stambaugh was "low risk" and he was released the very next day and FREE TO GO – with zero accountability.
---
November 22 Arrest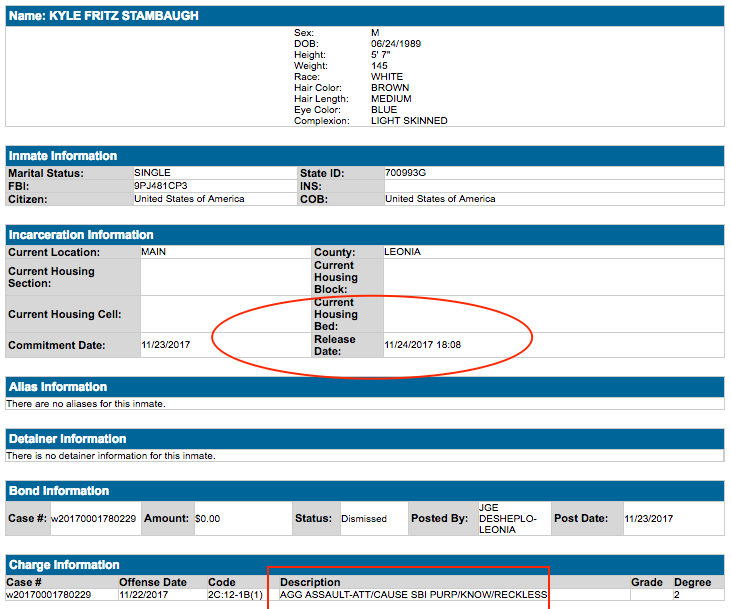 ---
This time it only took Stambaugh 3 days to get arrested again – this time for robbery charges that caused bodily injury.
---
More "validated pretrial risk assessment" Failures.
New Jersey Bail Reform, Risk Assessments, and Pretrial Release Services…
ZERO Accountability
ZERO Deterrent
ZERO Supervision
ZERO concern for victims
ZERO Bail…just a "pinky promise" to return
Bail Reform – Dangerous, Reckless, and a Taxpayer Burden
---
November 27 Arrest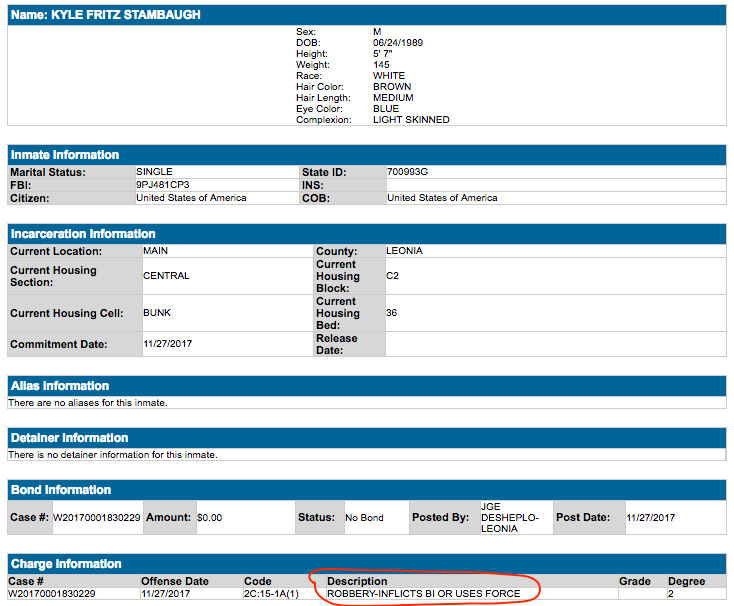 ---
Related:
(reported by Jerry DeMarco of the Daily Voice – April 22 2017)
A Leonia man who barricaded himself in his apartment brawled with police — sending a sergeant to the hospital with a deep leg cut and an officer there with a shoulder injury — after they said he pointed a gun at another man on the street.
Kyle Stambaugh, 27, repeatedly refused demands to open the door of his Grand Avenue apartment Monday afternoon, Police Chief Thomas Rowe said.
Rowe had responded along with Sgt. Frank Rocco, Detective Sgt. Chris Garris and Officer Erik Goodell.
Moments earlier, he said, Stambaugh pulled up at Grand and Hillside avenues in a vehicle, pointed a gun at a 20-something acquaintance he's known for several years and threatened him "over some type of issue he had with the victim."
Stambaugh then retreated into his nearby garden apartment, leaving a terrified victim who immediately called police, the chief said.
Stambaugh wouldn't open the door once they arrived, Rowe said.
"Several times we requested that he surrender," the chief said, "but he continually refused."Eventually we had to kick the door down."
A violent struggle followed in which Rocco sustained a 6-inch cut through his calf muscle from a broken table. Goedell also injured his shoulder, the chief said.
Rowe put Rocco into his car and headed for Holy Name Medical Center in Teaneck.
"On the way, as luck would have it, I pulled up alongside a Fort Lee ambulance returning from a call," he said. "They took him and contained the bleeding."
Rocco needed three layers of stitches before he was released from the hospital Monday night, the chief said.
---
[socialpoll id="2474525″]
---
You've been lied to New Jersey…
Bail Reform is reckless and dangerous – with zero regard for victims or criminal accountability.  Demand more from our legislators – demand that they fix the issues of bail reform.
---