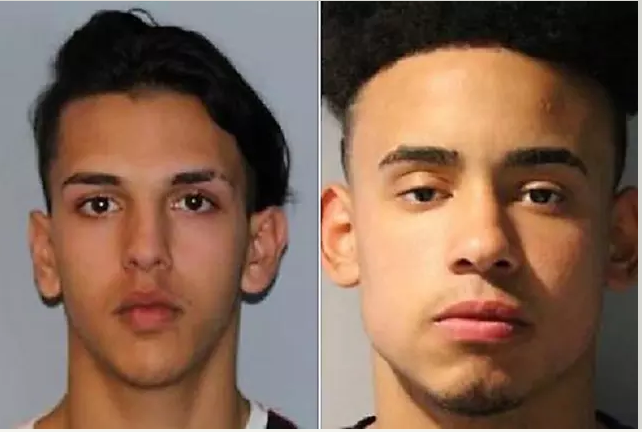 Ryan P. Oneill-Ramdhan and Jeremiah R. Santiago – victims of a hit and run – were arrested after police found a loaded CF380 handgun, drugs, and other weapons during their investigation. The pair were later released and FREE TO GO thanks to NJ Bail Reform.
New Jersey Bail Reform, Risk Assessments, and Pretrial Services…
ZERO Accountability
ZERO Deterrent
ZERO Supervision
ZERO Bail…just a "pinky promise" to return
Dangerous, Reckless, and a Taxpayer Burden
---
(reported by Jerry DeMarco of the Daily Voice – Apr 27, 2017)
Officers responding to a hit and run crash on the Palisades Interstate Parkway in Englewood Cliffs found the victims waiting with a loaded gun, a knife and hatchet and drugs in their car, authorities said.
Driver Ryan P. Oneill-Ramdhan was showing Sgt. Gregory Kimbro and Officer Kevin Condus the vehicle damage at the northbound Mobil station on Wednesday when Kimbro smelled raw pot inside, Police Chief Michael Coppola said.
Oneill-Ramdhan got back into the driver's seat, apparently to retrieve his license, the chief said.
At that point, he said, the officers ordered him out and searched him, the car and his passengers — identified as Jeremiah R. Santiago and Bryant Vizcarrondo — with assistance from Officer Michael Holland, the chief said.
In the car, he said, they found:
a .380-caliber CF380 handgun with a magazine containing 6 rounds;
a KA-BAR commando knife;
a metal hatchet;
a silicone container with THC wax;
a JUJU vaporizer with liquid THC;
rolling papers, cigars and a scale, as well as a glass jar containing a plastic bag and partially burnt hand-rolled cigar, a digital scale and a metal grinder — all with marijuana residue.
Santiago was carrying a bag of pot down the front of his pants, Coppola said.
Both he and Santiago were taken to police headquarters — and later released under New Jersey's 2017 bail reform law pending scheduled court appearances.
---
Stop being LIED to…Bail Reform is RECKLESS, DANGEROUS, and YOU are PAYING for it.
Defendants are presumed innocent until proven guilty in a court of law.
---