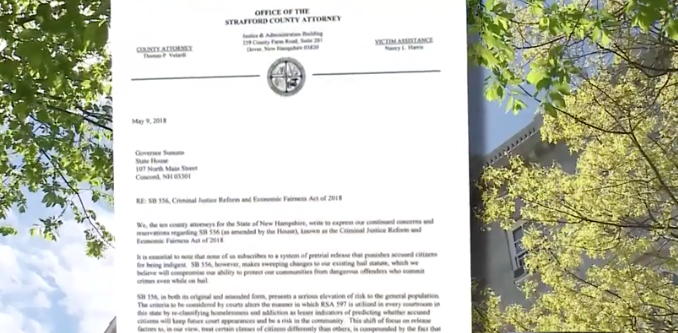 New Hampshire – County attorneys ask lawmakers to hold off on bail reform
____
CONCORD, N.H. —
County attorneys are weighing in with a stern warning about a proposal to reform the state's criminal justice bail system.
But in a letter sent to Gov. Chris Sununu and other lawmakers working on the bill, the state's 10 county attorneys said it would make sweeping changes that could increase the risk that dangerous offenders would commit crimes while out on bail.
The prosecutors said they were particularly concerned about the lack of pretrial services in many areas of the state for offenders who would normally stay behind bars.
"If those persons are now forced to be released by the new proposed criteria, particularly in areas of the state that have zero or limited bail supervision services, we must conclude that the general public will be less safe," the county attorneys wrote.
#bailreform
http://ow.ly/E6OL30k2bZO
---
Posted from our Facebook Page…