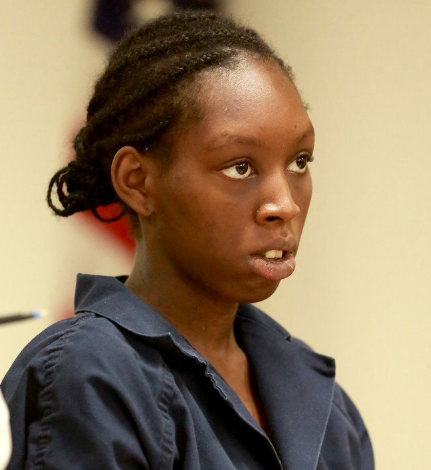 Lucy Gunter, 20, of Camden, was charged with endangering the welfare of a child for neglecting to seek medical attention for her 4-year-old daughter, Natalise "Kayla" Gunter.
Gunter told police that she discovered Kayla was beaten by her boyfriend for not eating for four days when she came home from work. Kayla was missing a tooth and had a deep cut on her forehead. After Kayla stopped eating and slept a lot of over the next several days, Gunter called 911 when she found her daughter unresponsive on the floor. Kayla later died at the hospital.
Despite the prosecutors filing for preventive detention, Gunter was released FREE TO GO under NJ Bail Reform guidelines after the Arnold Foundation's "Pretrial Risk Assessment" tool determined that she was not a danger to the community or a flight risk and therefore should not be subject to any accountable release – just a "promise" to appear.
---
Another "validated pretrial risk assessment" Failure.
New Jersey Bail Reform, Risk Assessments, and Pretrial Release Services…
ZERO Accountability
ZERO Deterrent
ZERO Supervision
ZERO concern for victims
ZERO Bail…just a 

"pinky promise"

 to return
Bail Reform – Dangerous, Reckless, and a Taxpayer Burden
---
(reported by NJ.com – July 21 2017)
A 20-year-old Camden woman facing charges after the death of her 4-year-old daughter this week was released pending a trial date after a judge ruled Friday prosecutors had not proved she was a flight risk.
Lucy Gunter is charged with endangering the welfare of a child for failing to seek medical care for her daughter, Natalise "Kayla" Gunter. 
The girl died Tuesday morning at Cooper University Hospital after being taken there by ambulance. Paramedics found her "unresponsive with injuries to her face" when they arrived at a residence in the 1400 block of S. 9th Street at 8:15 a.m. Tuesday, investigators said. She was declared dead at Cooper at 8:58 a.m.
Gunter told police her boyfriend beat her 4-year-old daughter for not eating four days before she died Tuesday, according to court documents.
---
You've been LIED to New Jersey…NJ Bail Reform is RECKLESS, DANGEROUS, and YOU are PAYING for it.
Defendants are presumed innocent until proven guilty in a court of law.
---
https://www.usbailreform.com/toms-river-nj-man-stole-construction-vehicle-free-go-nj-bail-reform/