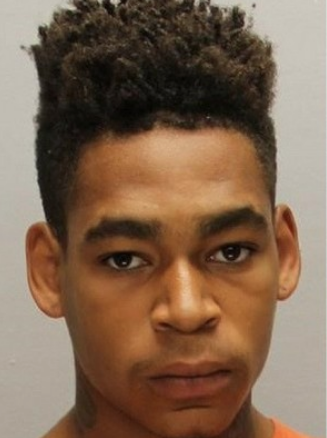 Delronn Mahan, 19, of Lindenwold, has been charged with attempted murder and related charges after authorities say he shot Camden County Police Officer Patrick O'Hanlon point blank – hitting him in the right thigh.
Officer O'Hanlon was shot while approaching three "suspicious" men in the area of 8th and Chelton Avenue on the night of November 1st. When Mahan fled, O'Hanlon chased after him on foot – at which time Mahan pulled out a handgun.
During a struggle for the weapon, Officer O'Hanlon was shot in the leg. Mahan then attempted to shoot O'Hanlon in the face – but the gun jammed after the first shot fortunately for O'Hanlon.
Eventually, Officer O'Hanlon was able to secure the weapon and the suspect until backup arrived.
In yet another example of how NJ Bail Reform is failing the citizens and those who serve to protect us, Mahan had been released on bail reform just days earlier for possession and resisting arrest charges.
---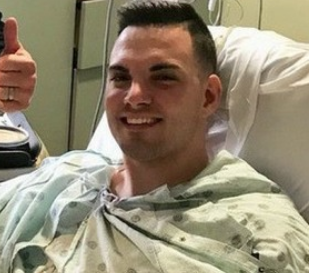 ---
According to sources within the court system, Mahan was issued complaint warrants 14 times in 2016 for charges of theft, burglary, possession of crack cocaine, possession of burglary tools, and other charges.
In 2017, Mahan was arrested four times before shooting Officer O'Hanlon – 3 times released on a summons, and once FREE TO GO by Judge Robert Zane under NJ Bail Reform after the Arnold Foundation's "Pretrial Risk Assessment" tool determined that he was not a danger to the community or a flight risk and therefore should not be subject to any accountable release – just a "promise" to appear.
Here is what NJ Bail Reform and the Arnold Foundation Pretrial "risk assessment" tool consider "low risk"…
14 Arrests in 2016 for theft, burglary, possession of crack cocaine, possession of burglary tools, and other charges.
3/4/17 – Arrested in Gloucester City for possession of heroin and hindering apprehension. Issued a summons.
9/3/17 – Arrested for possession of crack cocaine. Issued a summons.
9/28/17 – Arrested for possession of crack cocaine. Issued a summons.
10/26/17 – Arrested for possession of drugs and resisting arrest. Released the next day by Judge Robert Zane under NJ Bail Reform.
11/1/17 – Shoots Officer Officer O'Hanlon point blank during an arrest – now charged with attempted murder.
At the time of the shooting, Mahan had two superior court cases pending and had just been sentenced in July on a separate matter.
---
More "validated pretrial risk assessment" Failures.
New Jersey Bail Reform, Risk Assessments, and Pretrial Release Services…
ZERO Accountability
ZERO Deterrent
ZERO Supervision
ZERO concern for victims
ZERO Bail…just a "pinky promise" to return
Bail Reform – Dangerous, Reckless, and a Taxpayer Burden
---
[socialpoll id="2468715″]
---
RELATED:
(reported by NJ.com – Nov 1 2017)
Camden County Police Chief J. Scott Thomson described the man charged with shooting an officer in the thigh Wednesday night as a 19-year-old Crips gang member with a lengthy adult arrest record despite the fact that he only turned 18 a year and a half ago.
Delronn Mahan, of Lindenwold, is being held at the Camden County Jail on charges including attempted murder, according to the Camden County Prosecutor's Office.
"He's a bad guy," Thomson said of Mahan, whom he said had previously been arrested on drug charges in the same neighborhood where the shooting occurred. "In that short period of time of being an adult he has three felony convictions… Last night I think was his 10th arrest since he's 18 years old."
Thomson told reporters in a press conference Wednesday that the officer who was shot at point blank range, Patrick O'Hanlon, is stable and recovering from the wound. The bullet went through his upper right thigh. 
Thomson described O'Hanlon as a 21-year-old "diligent guardian" with a year on the job. He is also in the U.S. Army Reserves.
O'Hanlon was shot after approaching a group of three "suspicious" men in the area of 8th Street and Chelton Avenue shortly after 10 p..m. Wednesday night, Thomson said. Mahan fled and O'Hanlon gave chase, at which point Mahan pulled out a gun.
They struggled for the weapon, Thomson said, and the officer was shot.
The gun apparently jammed after that shot, which Thomson said was fortunate because Mahan then tried unsuccessfully to shoot O'Hanlon in the face.
"He able to rip the gun out of his hands, toss it off to the side and at the same time overpower the suspect and physically stay on top of him until backup arrived which was a matter of seconds," he said.  
---
You've been LIED to New Jersey…NJ Bail Reform is RECKLESS, DANGEROUS, and YOU are PAYING for it.
Defendants are presumed innocent until proven guilty in a court of law.
---
[socialpoll id="2465068″]