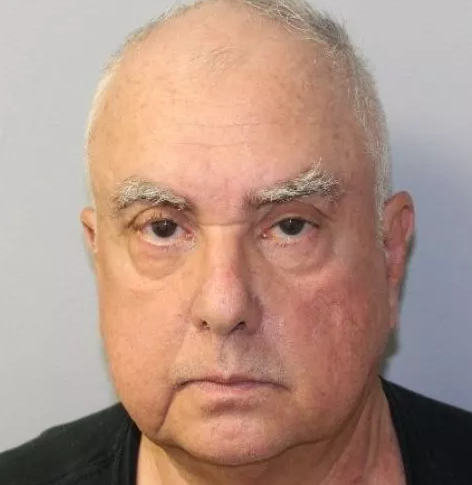 Daniel Furesz, 68, of Bergenfield, an ex-con with a long history of arrests, was charged again with possession of a firearm by a convicted felon – and now FREE TO GO thanks to NJ Bail Reform after the Arnold Foundation "Pretrial Risk Assessment" tool determined that he was not a danger to the community or a flight risk and therefore should not be subject to any accountable release – just a "promise" to appear.
Furesz was sentenced in 2011 for being in possession of a bulletproof vest, a gas mask, a Colt Model AR-15, seven shotguns, 10 handguns, 18 other rifles and thousands of rounds of ammunition in his home and car.
Furesz was also convicted of lewdness and sentenced to 16 months in 1998. Records show that Furesz has been arrested over 23 times for lewdness and indecent exposure.
---
Another "validated pretrial risk assessment" Failure.
New Jersey Bail Reform, Risk Assessments, and Pretrial Release Services…
ZERO Accountability
ZERO Deterrent
ZERO Supervision
ZERO concern for victims
ZERO Bail…just a 

"pinky promise"

 to return
Bail Reform – Dangerous, Reckless, and a Taxpayer Burden
---
(reported by NorthJersey.com – July 25 2017)
A disabled Air Force veteran from Bergenfield who was sentenced to prison in 2011 for having 36 firearms was arrested on Monday allegedly with guns, knives and handcuffs, authorities said. 
Police in Bergenfield responded to a reported domestic dispute on Anderson Avenue around 2:30 p.m. between Daniel Furesz, 68, and a 59-year-old woman, Capt. Mustafa Rabboh said in a statement. Furesz fled the scene when police arrived, but the woman told authorities the .22 caliber handgun and an air rifle found in the home belonged to Furesz. Police took the weapons.
Furesz later arrived at the Bergenfield Police Department to reclaim his rifle, authorities said. He was arrested and found with knives and a pair of handcuffs. Charges for Furesz include unlawful possession of a weapon, certain persons not to possess weapons, possession of certain illegal weapons and possession of handcuffs. 
---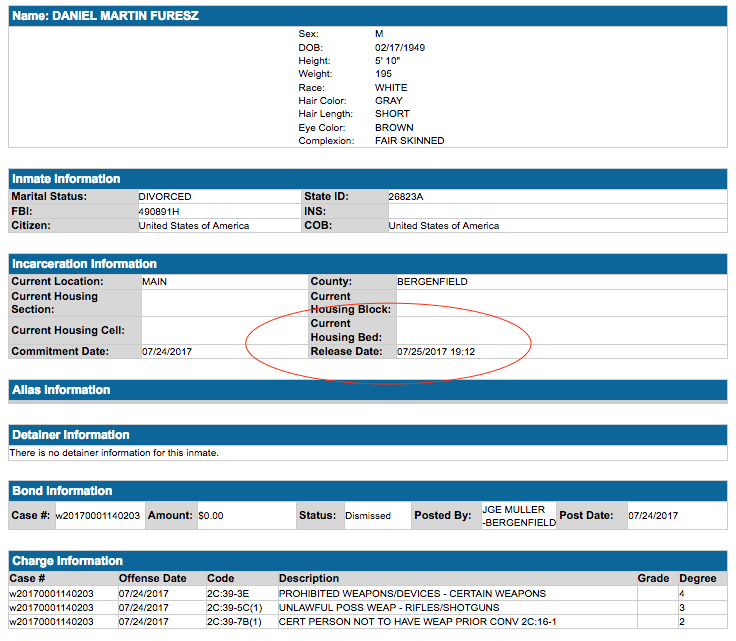 ---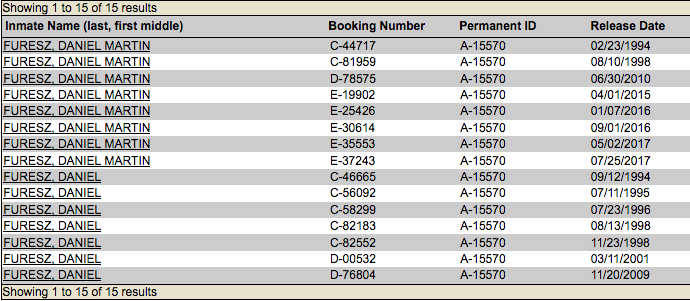 ---
Furesz remained in Bergen County Jail, authorities said. As a convicted felon, Furesz can't own any weapons.
In July 2011, Furesz was sentenced to 70 months in prison after he was found with a bulletproof vest, a gas mask, a Colt Model AR-15, seven shotguns, 10 handguns, 18 other rifles and thousands of rounds of ammunition, The Record previously reported. He also had a .357 magnum handgun in his 1993 Buick LeSabre. 
Police previously told The Record that Furesz was a habitual sex offender and was caught fondling himself in front of two girls in Hackensack in 1998. Records show since 1972, Furesz was charged with lewdness and indecent exposure 23 times.
---
You've been LIED to New Jersey…NJ Bail Reform is RECKLESS, DANGEROUS, and YOU are PAYING for it.
Defendants are presumed innocent until proven guilty in a court of law.
---
https://www.usbailreform.com/paterson-nj-female-drugs-loaded-handgun-bra-free-go-nj-bail-reform/