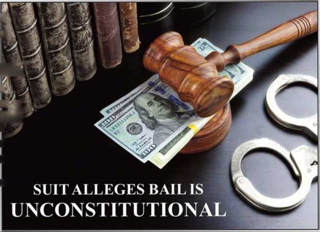 Class action suit in Atlanta claims the states bail system discriminates against the poor…but does it?
Dee Ann Campbell from The Choctaw Sun-Advocate reported…
Mar 2, 2017
ATLANTA, BUTLER – A class action case that was heard last week in the U.S District Court in Atlanta could have implications on those posting bail in other states, including Alabama, and potentially affecting suspects arrested in
Choctaw County.
The case was brought to the court by a Calhoun, Georgia, jail inmate who alleged that he was discriminated against when he was arrested because he was unable to pay the $160 cash bond required for his release. Maurice Walker, who was arrested in September, 2015, for public intoxication, claimed that the bail system in Calhoun was un-constitutional and discriminatory against those who could not afford to pay.
Walker was represented by attorneys from Equal Justice Under Law and the Southern Center for Human Rights. The attorneys claimed that the bail system in Calhoun was keeping poor arrestees in jail, while those with money to post bona were allowed to go free.
"In the City of Calhoun, many people arrested for minor traffic or misdemeanor offenses are released from custody almost immediately upon payment of money to the City," the suit reads. "Those arrestees who are too poor to purchase their release remain in jail because of their poverty for up to seven days before a first court appearance."
The plaintiffs attorneys asked the court to mandate a change in policy so that the 'constitutional rights of Mr. Walker and the class members will be protected in the future'. The complaint cited the 14th Amendment's Due Process and Equal Protection clauses as basis for their case. Although the case directly affects the city of Calhoun, the case could have wide implications, potentially affecting states across the county, and some believe the issue could end up before the U.S. Supreme Court.
"This is having a cascading impact," Jeff Clayton, Executive Director of the American Bail Coalition told the Sun- Advocate on Monday. "It's creating uncertainty right now."
The Obama Administration's Justice Department weighed in on the issue in the Walker case, stating in August of 2016 that keeping poor defendants in jail simply because they can't afford fixed bail amounts is unconstitutional and conflicts with "sound public policy considerations."
In an amicus brief filed in the case, the Department of Justice said that a long line of U.S. Supreme Court cases have suggested the 14th Amendment is violated whenever justice hinges on the defendant's ability to pay.
The 14th Amendment says that states cannot deprive any person of life, liberty, or property, without due process of law:
nor deny to any person within its jurisdiction the equal protection of the laws.
A 2015 case in Alabama cited similar arguments. A Dothan man who was arrested for public intoxication, Anthony Cooper, was the subject of a civil rights lawsuit after being jailed because he was unable to pay the $300 in bail that was required for his release. (Cooper was told that he would have to spend six days in jail awaiting court hearing.
In response to the case, the City of Dothan changed its policy, stating that those awaiting hearings in Dothan Municipal
Court would no longer be required to pay bail up front. The city moved to an 'unsecured bond' system where defendants
owe money if they do not appear in court when they are required to do so.
The city of Clanton, Alabama also stopped requiring secured money bail for new arrestees in response to a law-suit filed in that town, according to published reports.
The DOJ also weighed in on that case, citing similar 14th amendment arguments.
Other cases have gained attention in recent years, giving more attention to the push for changes.
But officials are voicing concerns about the implications for overturning the bail system, and how it might affect law enforcement's ability to seek justice for crimes.
Clayton said that, in his experience, people don't show up for court without some reason to do so.
"Some are more likely to do so than others because there is more on the line," Clayton said. "With bail, you have to look at what happens after they don't show up. Someone is on the hook for it."
Clayton added that only about 5% to 10% of arrestees lack the resources to pay reasonable bail.
Some, like Cheris Burdeen of the Pretrial Justice Institute, have suggested that simply calling individuals before
their court dates or sending them texts reminding them to appear is enough in most cases. But other officials scoff at
such claims.
Choctaw County Sheriff Scott Lolley said that there are sometimes other reasons for suspects not posting bail, reasons that have little to do with finances  
"Sometimes the family just chooses to leave the person in jail, for their own good, or to make sure nothing else hap-
pens," Lolley said. "Sometimes it's the best thing for that person."  
Clayton agrees.  "There are other reasons why people don't post bail," he said. "They want credit for time served, or other reasons.
Clayton said that, in some cases, family members opt not to help wit bail because of ongoing problems with the arrestee, hoping to prevent further issues by leaving the suspect in jail.
Based on local pending warrants, Lolley said that a significant number of those charged with crimes locally do
not show up for their court cases.
"The whole point of bond is to have the bondsman go get them if they don't show up," Lolley said.
Clayton suggested that the bail system may need some changes, to make the posting of bail more meaningful.
"The question is, what is meaningful bail?" Clayton said. "What does a hundred dollars really do? We need to set more meaningful bail, or cut people loose.
As for the Walker case, Clayton said that, in his opinion, the judges would likely not rule in favor of the plaintiff on the basis of their 'Equal Protection' claim, adding that the issue with the posting of bail is more a 'due process' issue.
View the Choctaw Sun-Advocate Digital Article here…Choctaw Sun PDF