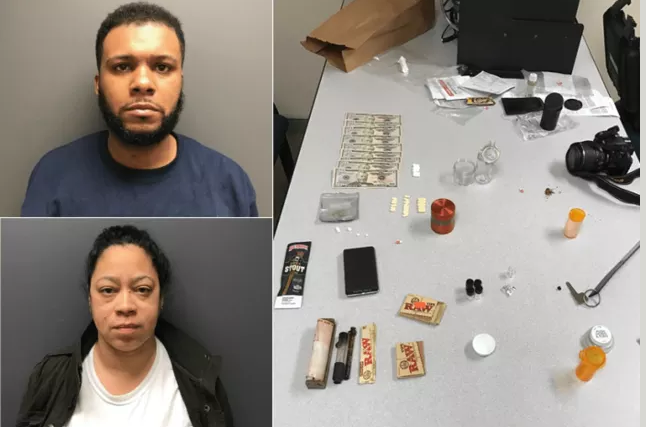 Nana K. Gardinie, of Lumberton, and Sulange Smith-Ferguson, of Brooklyn, were arrested during a routine traffic stop for possession of an assortment of drugs including cocaine. Both quickly left town after they were released and FREE TO GO with their NJ Bail Reform trophy.
ZERO Accountability
ZERO Supervision
ZERO Bail…just a "pinky promise" to return
---
(reported by Jerry DeMarco of the Daily Voice – Apr 18 2017)
An out-of-town couple had a collection of pills, pot and cocaine with them when a Rochelle Park police officer stopped them for various motor vehicle violations, authorities said.
Officer Frank LaBoy pulled over the 2011 Nissan sedan near the ShopRite on West Passaic Street for having improperly displayed license plates and improper safety glass, Lt. Dean Pinto told Daily Voice.
The driver, 32-year-old Nana K. Gardinier of the Burlington County town of Lumberton, didn't have the necessary documents for the uninsured vehicle, Pinto said.
LaBoy also smelled pot from inside the car, he said.
Backup Officers Brendan Stapleton and Christopher Saldivia arrived and a probable-cause search turned up:
5 Seroquel tables;
15 Zoloft pills;
2 Oxycontin pills;
2 Oxycodone pills;
Marijuana;
A glass vial of cocaine;
A scale used to weigh drugs for sale.
Gardinier and his passenger, 47-year-old Sulange Smith-Ferguson of Brooklyn, also had rolling papers and $50 in suspected drug proceeds, the lieutenant said.
Both were released without bail pending court hearings on assorted drug charges.
---
You've been LIED to New Jersey…NJ Bail Reform is RECKLESS, DANGEROUS, and YOU are PAYING for it.
Defendants are presumed innocent until proven guilty in a court of law.
---