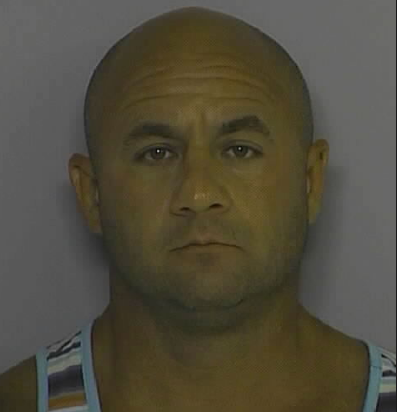 Ernest "Drew" Paulus III, 46, of North Cape May was arrested for allegedly sharing lewd images of a female and for pointing a shotgun at the same victims head months earlier.
Paulus is now FREE TO GO under NJ Bail Reform after the "Pretrial Risk Assessment" tool determined that he was not a danger to the community or a flight risk and therefore should not be subject to any accountable release – just a "promise" to appear.
---
Another "validated pretrial risk assessment" Failure.
New Jersey Bail Reform, Risk Assessments, and Pretrial Release Services…
ZERO Accountability
ZERO Deterrent
ZERO Supervision
ZERO concern for victims
ZERO Bail…just a 

"pinky promise"

 to return
Bail Reform – Dangerous, Reckless, and a Taxpayer Burden
---

---
(reported by Cape May Herald – July 5 2017)
Lower Township Police Detectives received a report from North Wildwood Police Department June 30 that a female victim was at their headquarters reporting Ernest "Drew" Paulus III, 46, of North Cape May had been sharing inappropriate photographs of her. She also claimed that Paulus had pointed a shotgun at her head several months ago and told her not to report him to the police.  
Detectives responded to the North Wildwood Police Department and after speaking with the victim, they escorted her back to the Lower Township Police Department to apply for a temporary restraining order (TRO) and to provide a tape-recorded statement detailing the incidents.  
After obtaining a formal statement from the victim, Judge Thomas Hillegass authorized a search warrant for Paulus' residence, located in the 600 block Howland Avenue in North Cape May. 
While detectives were awaiting the arrival of the Cape May County SWAT team, to assist in the execution of the search warrant, Paulus left his residence in his vehicle. He was stopped and detained by Lower Township Police Detectives.   
Ultimately, the search warrant was executed at Paulus' residence and as a result, a cell phone, computer, video recording devices and other electronics were seized. In addition to the seizure of the electronic equipment, marijuana and assorted drug paraphernalia were also seized.
Paulus was transported to police headquarters where he was charged with aggravated assault, possession of a weapon for unlawful purpose, terroristic threats, invasion of privacy, for recording the images without consent, invasion of privacy, for sharing the images, possession of controlled dangerous substance (CDS) and possession of drug paraphernalia.  
---
You've been LIED to New Jersey…NJ Bail Reform is RECKLESS, DANGEROUS, and YOU are PAYING for it.
Defendants are presumed innocent until proven guilty in a court of law.
---
Atlantic City, NJ – 3 New York City Drug Dealers caught with $1 MILLION in fentanyl-laced heroin FREE TO GO under NJ Bail Reform