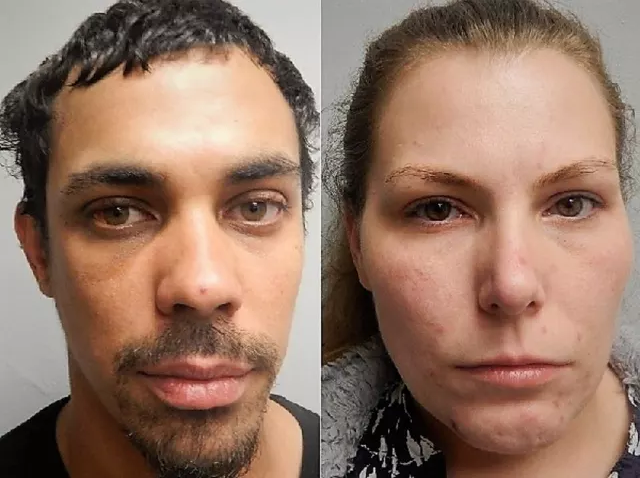 Daniel Reynoso, 33, and Jennifer Innes, 32, both of New Milford, were arrested during a routine traffic stop for possession of heroin and drug paraphernalia – with their 7-year-old son and 3-month-old daughter in the car – quickly released on a summons and FREE TO GO thanks to NJ Bail Reform.
ZERO Accountability
ZERO Supervision
ZERO Bail…just a "pinky promise" to return
---
(incident reported by Jerry DeMarco of Daily Voice – Apr 24, 2017)
A local couple had their 7-year-old son and three-month-old daughter with them when a New Milford police officer stopped their car for speeding and found several bags of heroin, hypodermic needles and other drug paraphernalia, authorities said Thursday.
Officer Vincent Siekierski pulled the car over on River Road just before 9:45 p.m. Wednesday and found the driver, 33-year-old Daniel Reynoso of Hackensack "nervous and anxious," Detective Sgt. Kevin Van Saders told Daily Voice.
After learning that Reynoso's driver's license was suspended, Siekierski found his passenger, Jennifer Innes, 32, of Bergenfield, carrying the drugs and works, he said.
He arrested the pair on various drug-related offenses, in addition to child endangerment.
Reynoso also received summonses for having a suspended license and careless driving.
Police released the couple, under New Jersey's 2017 bail reform law, pending a hearing in Central Judicial Processing Court in Hackensack.
---
You've been LIED to New Jersey…NJ Bail Reform is RECKLESS, DANGEROUS, and YOU are PAYING for it.
Defendants are presumed innocent until proven guilty in a court of law.
---