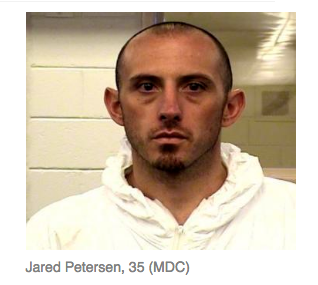 Jared Peterson, 35, was arrested on an outstanding warrant for aggravated assault – an incident where he allegedly threatened his girlfriend with a "battle axe." Police arrested Peterson during an investigation into the death of a 38-year-old man.
Despite the prosecutor filing for preventative detention to hold Peterson, who is no stranger to jail, he was released under new NM Bail Reform guidelines that virtually eliminates accountable pretrial release and bail – FREE TO GO – after the Arnold Foundation's "Pretrial Risk Assessment" tool determined that he was not a danger to the community or a flight risk and therefore should not be subject to any accountable release – just a "promise" to appear.
---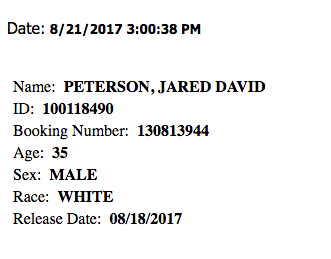 ---
New Mexico Bail Reform, Risk Assessments, and Pretrial Services…
ZERO Accountability
ZERO Deterrent
ZERO Supervision
ZERO concern for victims
ZERO Bail…just a 

"pinky promise"

 to return
Bail Reform – Dangerous, Reckless, and a Taxpayer Burden
---
(reported by Albuquerque Journal – Aug 14 2017)
Although detectives are still investigating the death of a 38-year-old man in his northeast Albuquerque home Saturday, they arrested another man living in the house on unrelated charges.
Officer Simon Drobik, a spokesman for the Albuquerque Police Department, said police were called to the house on the 7200 block of Constitution NE, east of Louisiana NE, Saturday night by a caller reporting a roommate had shot himself.
However, when they arrived they thought the death appeared to be suspicious. APD's bomb squad was called in and cleared the scene after police learned the home might have been booby trapped.
That's when police spotted Jared Petersen, 35, and realized he was wanted on other charges.
Petersen is charged with aggravated assault on a household member and was booked into the county jail. His name is also spelled Jared Peterson in online jail records.
According to a criminal complaint filed in Metropolitan Court, last week his girlfriend told police he had threatened her with a "battle ax" because he was worried she was going to leave him.
---
You've been LIED to New Mexico…NM Bail Reform is RECKLESS, DANGEROUS, and YOU are PAYING for it.
Defendants are presumed innocent until proven guilty in a court of law.
---
New Mexico – CALL TO ACTION: STOP the reckless unaccountable release of violent and dangerous offenders – Email legislators & elected officials!