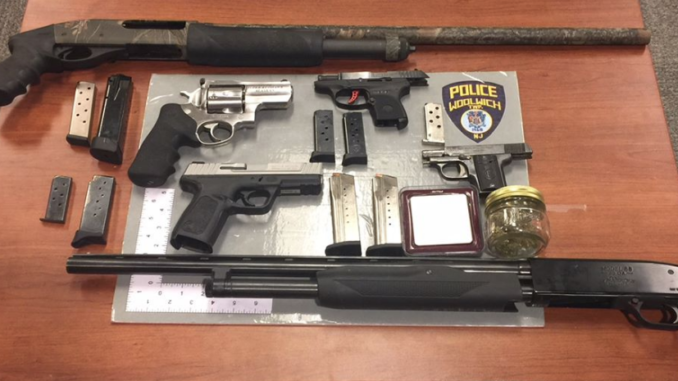 Police in Woolwich arrested a male driver after investigating a suspicious vehicle and discovering marijuana and six loaded firearms – now released under NJ Bail Reform.
May 30 2018
---
Woolwich Township, NJ – via Woolwich Township Police Department
Firearms / Narcotics Arrest
On Sunday, May 27th, 2018 at 2246 hours Cpl. Christian Gregory conducted a motor vehicle stop on a suspicious motor vehicle in the area of 1111 US Route 322. At that time, he encountered two adult male occupants. Both individuals stated they were traveling from Virginia enroute to New York and stopped behind a closed business to relieve themselves.
At that time, Cpl. Gregory detected the odor of raw marijuana emanating from the vehicle. When asked, the driver admitted to possessing a small amount of marijuana and firearms inside the vehicle. A subsequent search of the vehicle revealed under 50 grams of marijuana, marijuana paraphernalia and numerous loaded firearms within reach of both occupants.
The firearms and narcotics were seized accordingly and the driver was transported to headquarters where he was charged with possession of CDS and multiple weapons offenses before being released pending a future court date. The passenger was not charged.
---
The defendant was released and FREE TO GO under NJ Bail Reform after the Arnold Foundation's "Pretrial Risk Assessment" tool determined he was not a danger to the community or a flight risk and therefore should not be subject to any accountable release – just a "promise" to appear.
The release is yet another example of the thousands of unaccountable and FREE TO GO pretrial releases of those criminally charged under the NJ Bail Reform Act.
---
Demand more accountability for criminal defendants…
---
More "validated pretrial risk assessment" Failures.
New Jersey Bail Reform, Risk Assessments, and Pretrial Release Services…
ZERO Accountability
ZERO Deterrent
ZERO Supervision
ZERO concern for victims
ZERO Bail…just a "pinky promise" to return
Bail Reform – Dangerous, Reckless, and a Taxpayer Burden
---
You're being lied to…
Unaccountable pretrial release is reckless and dangerous – with zero regard for victims or criminal accountability.
Demand more from our legislators…
---
---
In other News…
Man arrested for trafficking kiddie porn FREE TO GO the next day under NJ Bail Reform