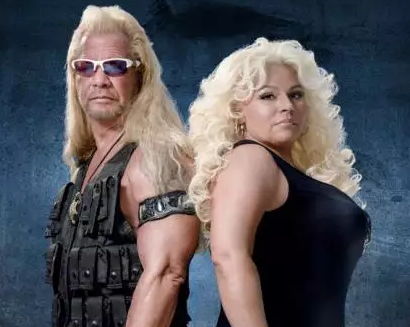 Ending Bail Is Not about Poverty, It's about Releasing Criminals
---
(Dover, Delaware)— Duane "Dog" and Beth Chapman join Crime Victims, Delaware State Bail Agents, and Law Enforcement professionals to prevent the release of millions of criminals through current legislation (HB204, by Representative J.J. Johnson) aimed at ending the Delaware bail system.
"The current movement by "soft on crime" advocates is not about protecting the poor, fairness, or safety, it is solely about letting out millions of defendants onto our streets, without any incentive for them to appear in court," said Beth Chapman, President of the Professional Bail Agents Association (PBUS). "These hug-a-thug policies would benefit the criminals and most negatively impact low-income communities and communities of color."
Also joining the coalition is Duane Chapman known as Dog the Bounty Hunter. Together the Chapmans starred on two popular reality T.V. shows, Dog the Bounty Hunter and Dog and Beth: On the Hunt. The duo have spent over half a century combined in the bail bond and fugitive recovery industry.
"If a defendant is released on bail, there is a 97% success rate that the defendant will appear in court," said Duane "Dog" Chapman. "They do so because there is a responsibility to the family or friends who helped put up the bail amount. Many of these defendants are required to receive court ordered treatment or counseling, which the bail agent ensures they attend. In addition, the bail agents constantly monitor the defendants to make sure they stay out of trouble and appear at their court date(s)."
Justification for these policies claim that defendants simply can't afford bail and therefore are being discriminated against because of their financial situation. However, a 2012 study of the Los Angeles County jail system by the ACLU found that 87% of individuals who were sitting in jail, pending trial, and unable to be released on bail were due to "non-financial" holds. These statistics are remarkably similar across the country with most offenders being held because they are: serving a sentence on another case, there is a probation or parole violation hold, an immigration hold, or the defendant is a threat to the public or the victim(s).
The coalition comprised of both public servants, who have committed to protecting the safety of the public, and private entities, who understand fugitives better than most, strongly believe that these "get out of jail free" policies only endanger the public.
In the jurisdictions where these assessments are the determining factor for free release there are countless examples where an offender was deemed to be low risk, was released, then reoffended and victimized someone else. The most recent, glaring example was in Little Egg Harbor, New Jersey, where a convicted child predator was arrested because he tried to lure a 12 year old girl to his house for "sexual stuff." He was arrested, but the risk assessment deemed him not a risk and he was ordered to be released, on free bail. The police chief was so frustrated that the only thing he could do was to put out a warning on Facebook that this predator was out of jail and a risk to the community.
Another concern raised by the coalition is that of the cost and danger transferred to Delawareans. The proponents of these policies continually point to the system in Washington D.C as the pinnacle of pre- trial release programs. They laud it as a successful system which should be mimicked. The numbers, however, simply do not justify the hype. Washington D.C. has a little over 700,000 people and the cost of running their "free" pre-trial system is a whopping $63 million dollars a year. That is $90 per citizen to pay for that system. Now consider the population of California and when you extrapolate the cost per citizen of roughly 39 million people the potential cost is $3.5 billion.
Even if the cost were put aside and focus was placed at the results which matter the most, namely the safety of law abiding citizens, Washington D.C. fails tremendously. The crime rate in D.C. is at the top 3% in the nation. Only 3% of other cities in the nation are more dangerous than Washington D.C. In D.C., 1 in 79 people will become the victim of a violent crime and 1 in 21 will become the victim of a property crime. Proponents point to the success of Washington D.C. because they don't have very many people in jail awaiting trial. However, coalition members feel that with crime statistics as bad as they are in D.C. maybe there should be more people in jail and ultimately they don't want to see those kind of statistics in Delaware.
"Our only concern is that of the public and keeping Delaware families safe," stated Beth Chapman. "A criminal deserves their day in court but the public deserves to have the protection of their life, liberty, property, and their pursuit of happiness. Coddling a criminal at the expense of the welfare of law abiding citizens is a disgusting proposition and one which we will fight with all seriousness."
---